Tuesday 14 January 2014
1. Schuh - Caterpillar Cat Colorado
HERE
2. River Island - Light Pink Cleated Platforms
HERE
3. ASOS - Alfonso ankle boots
HERE
4. Windsor Smith - Crank platform sandals
HERE
5. Nastygal - Jeffrey Campbell Chinook
HERE
6. ASOS - Dialog slip ons
HERE
Even though that shitty January feeling of Christmas being over and my bank account being empty I am still fantasizing about shoes far too much. I've been obsessing over the pink and white River Island platforms for about 3 weeks now, battling with my mind whether the are worth overdraft charges. Thanks god my common sense won out.
TTYL
Monday 19 August 2013
6. River Island -
£20
/ 7. Topshop -
£25
/ 8. River Island -
£15
/ 9. River Island -
£12
/ 10. Topshop-
£24
I'm selling a couple of bits on Ebay
HERE
username : frankie2291
Go buy my stuff so I can buy this stuff :D pleaaaaaaaaaaase !
+ go follow me on ...
Wednesday 10 April 2013
15. My computer is slowly dying, I wish this wasn't a gazillion pounds :(
Monday 11 March 2013
Sunny G's - Primark
Shirt - Brick Lane Market £5
Jacket - Vintage Escada Hanna's
Leggings - Primark £14
Shoes - Topshop via Ebay £15
Jen
Hey guys, I know it's been long time. I've been knee deep in
clunge
deadlines and blogging has taken a back-seat I'm afraid. Also, I keep on having these little epis like, why do I blog? is there any point ? Is it boring for everyone to read? Should I be posting swatches of all my makeup?? Dressing up in something I'm not actually wearing that day? It's so cold, dressing nice is hard man!
Wah Wah Waahhhhh!
It''s been difficult, but I'm going to keep at it and be me. So decide to do this post showing you a few cool looks I photog'd (badly) at LFW :) I miss it already, I met so many cool people, I hung out with Jen from
www.jjnoir.blogspot.co.uk
for the whole thing and she is a
BABE,
I wouldn't have had a clue if she wasn't there with me. We were complete blaggers - managed to get free Mac makeovers and goodybags- they said they were booked up but hanging around worked.
I also met
Promise
of Follow me in 5inch heels,
Wunmi
from Daisy-mak,
Breeny-Lee
, Melissa from
Melissa's Wardrobe
, Liv from
Fashion Somebody
and Lucia from
Lucia Lolita
. Nice to hang out with other boggers, I did feel a little like an imposter though haha!
In other news... The winner of my giveaway is
DUH DUH DUUUUUUH
Last but not least, I've been wanting to do a wishlist for ages now. Been shopping like crazy and always wanting more, and I think I've found a few gems you'll appreciate:
Tuesday 22 January 2013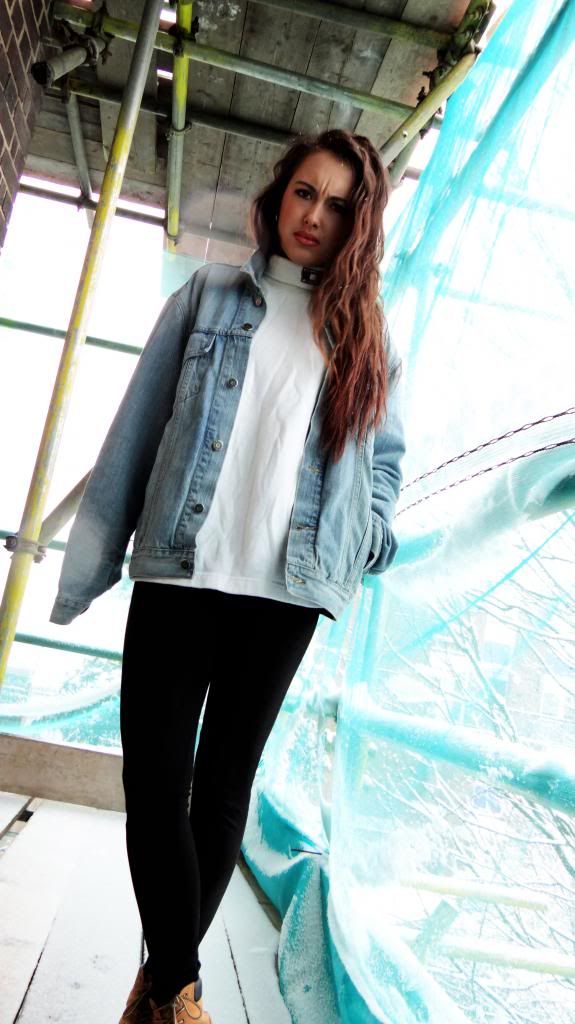 Jacket : Vintage Levi's £12
Jumper : Vintage Armani
Leggings : Joe Browns
Platform Timberlands : TK Maxx £20
Heeeeey :) Just went to write a new post and saw...
MY FAMALAM HAS INCREASED TO 400!!!!!!!!! REALLY????
Actually 399 if you count me following myself.Thanks if you're reading or taking a look. Blogging (although I don't do it nearly enough) is one of the few things that makes me genuinely happy and I'm so grateful people don't think my blog is shit :D I did buy some bits for a giveaway now I just have to find them in my floordrobe.
~
This post is a little different to my usual don't you think? My friend Gabby who I live with was wearing this frankly awesome outfit the other day and I had to document it on this blog. Luckily, she let me take a few pictures of her for which we ventured on to the scaffolding on our flat, I know right! We are dangerous bitches! I hope you like her outfit and the photography skills *cough cough* haha! I am sick of posting pictures of myself at the moment I think I'll be doing something different in between if that's okay? Anyhow, weather has been atrocious at the moment, so I've been cooped in (by cooped in I mean at Westfield) shopping and fackin hell man got some nice bits and bobs to show you :) I'm still in the process if editing my youtube video...tbf that shit is LOOOOOOOONG. So bear with me if you can. Now I haven't made a whishlist for ages so it's about bloody time :
I'll leave it at that before I have to file for bankruptcy
Love :D
Tuesday 13 November 2012
Thought I'd torture myself and browse through ASOS tonight and man I wish I hadn't! Shitloads of amazing stuff and no money to be had in my bank account D: Thought I'd share a few of my picks of the new in and a couple of random finds ENJOY :)
Sleeping is for losers HA!
Tuesday 11 September 2012
Beanie : Ebay
Jumper : Bootsale 
Necklace : Ebay
Skirt : Charity shop 
Bag : Primark
Boots : Jeffrey Campbell Tardy via Office
Wednesday 4 July 2012
I can no longer say that I live in my own grotty student flat, I've moved back to the family home for the summer ...woooo. I can't complain really, after the last couple of months of having one meal a day (I prefer clothes to food, although you can't really tell by my figure) and not hoovering once, I am welcomed by the cleanest house in the world with a fridge full of Elderflower cordial and all the Parma ham and frankfurters I can stuff my face with. Wow a lot of pork right there.. I like scones too :)
Despite the miserable weather in London at the moment it was still 18 degrees today so I dressed accordingly, grungy and as little as possible. Here's what I wore :
Denim Jacket : Calvin Klein via ebay + DIY, Sheer dress : my sisters (vintage), Skirt : Topshop ,
Crop top : Topshop Sale, Creepers : Underground.
Anyway, Electric Elephant has crept up on me, I'm going to Croatia on TUESDAY! I didn't even think about doing any holiday shopping until this evening, I haven't enough money for anything really. definately want a new bikini though. Has anyone ever been to Electric Elephant? Or any other Croatian festivals for that matter, I'd love advice on EVERYTHING as I'm practically clueless.
Oh what I'd buy if I had the money.... Here's my summer wishlist :
Maybe, if you'd like to fund some of this stuff ( I am a complete charity case) you could buy these lovely boots on my ebay here
Toodles
Tuesday 29 May 2012
MY EXAMS ARE FINALLY OVER!!!
And more to the point I'm pretty sure I smashed the last one!!!! I celebrated by drinking a lot of cider ( I'm from the West Country that's what we do ) and sampling the delights at the London Fields outdoor swimming pool, the weather in London has been beautiful the past few days. Yesterday I received this amazing midi dress in the post from ASOS. I fell in love with this dress after seeing it one Jessie J on the voice, I managed to snap one up before they sold out quickly and I wore it out shopping today, I felt so fancy wearing it round Westfield Stratford :
Dress: ASOS , Necklace: Peacocks , Boots: Topshop
I'm not sure exactly what RedBull does to me but it makes me WEIRD. About a week and a half ago I went to Primark and tried on this midi dress (below) and completely fell in love. However, being the cheapskate I am I didn't want to spend £13 on something from Primark when I probably couldn't get that much for it on eBay. Since the day I tried it on I have been no less than OBSESSING over this dress, to the point where I have been trawling eBay for it. Luckily, I managed to find one in Primark Westfield today.
As you can probably see I have a small obsession with midi dresses at the moment, which is ideal because walking down the road in East London wearing anything short results in numerous disgusting men shouting out of their shitty, stupidly loud cars. I really don't understand them at all, has any of them EVER pulled anyone apart from a crack-whore from shouting 'hey.. hey you ...sexy girl' out of their car window? I'm guessing NEVER. The irony of the situation is that if you tell them to fuck off they start getting janky about your looks. I will never understand men. Rant over.
I love this bralet I managed to find is the chaos of Primark, the aztec-y print and pastels are really cool for the summer. Although, be warned if you don't have tiny boobs, the cups are really small, I even got a size up and it's still a bit on the small side.
I LOVE these sunglasses, a bargain at just £2 and I feel like I'm channelling Beyonce in her Linda Farrows seen earlier this year.
I am still obsessed with tie dye, I really can't get enough of it and it's everywhere at the moment in the best possible way. This bodysuit is going to be my latest tie dye project, I'm going to try and make a multicoloured spiral effect. It's so fun and satisfying to tie dye your own clothes, so easy and simple to get a professional looking piece and it's SO CHEAP. I promise to post a tutorial in the next few days :)
I'm really looking forward to a summer filled with blogging, and hopefully a summer full of new shoes if I can get a job. Here's a few rad pairs I want to get my hands on :
Oooooh I can't wait for Radio 1's Hackney weekend coming up at the end of June, is anyone else going?
love Frankie
Posted by

Frankie
20 comments:


Labels: 80's print, Boots, eBay, jeffrrey campbell, LUST, midi, NEW, OOTD, print, Shoes, shopping, SUMMER, Where's it from, wishlist