Thursday 26 September 2013
Dress - c/o Monki , Jacket - Aquascutum , Socks - Monki , Shoes - H&M , Bag - c/o La Moda ||| Trousers - Vintage , Top - vintage , Shoes - Topshop , Bag - Primark
Mulan
London Fashion Week ended last Tuesday, leaving me a nasty cold (I am dying) but also the memories of some pretty cool experiences. I've finally brought myself to go through the hundreds of photos and thought my first LFW post be a bit of a street style post. Friday the 13th didn't bode well for us at Somerset House - it rained so much and it continued throughout the weekend. Luckily, on the Monday the weather was pretty good and that's when I got most of these snaps. I forgot to take my camera for the first three days (worst blogger ever) so I had to make do with my dads i pad - more outfit posts from LFW to come soon.
I managed to get photos of my two favorite outfits however, the first being this awesome Monki dress the lovely Erica let me pick out at the showroom just before fashion week. If you are crap at planning outfits like me you'll appreciate how much of a lifesaver this one was - only had to faff around for 15 minutes choosing what coat to wear over it haha! I also went to Monki to pick up some jeans and found these smiley face socks I included on a wishlist a while back, I was on a bit of a Monki hype that day and
I LOVED
it.
The best bits of LFW were the ones I shared with blogger babes - It was nice to chill with everyone and catch up, the New Look Refuel room was the place to be again this season, champagne, manis and a photo-booth took the edge off the fact that it was pissing it down outside.
SO
, more to come, I went to some really good shows (
OMG KTZ
!!!!) and the most bloody amazing sick parties ever - expect to be reading about them soon!
ttfn
Thursday 22 August 2013
T shirt - ASOS
Kimono - Topshop
Jeans - Topshop Joni
Shoes - Topshop Ravers via Ebay
So yesterday I attended the GS Shop show with my girl
Jen
and this is what I wore :) If you follow me on Instagram ( @Frankiegd) you are probably sick of seeing this red kimono I got from Topshop a while back (I've got matching shorts to how cool is that!), it's my staple jacket a the moment whilst it's too hot for denim. For some reason outfit planning doesn't work for me and this is the result, I always end up throwing something on last minute - refer back to my LFW outfits last year haha!
The GS Shop show, which I was lucky enough to attend thanks to Pop PR comprised the work of four Korean Central St Martins alumni designers. All four shows seemed to be A/W to me, a little confusing ( I'm hating A/W coming in the shops at the moment, still in summer mode) but I loved the coats and jackets - especially the mens ones from Xess Homme. I wasn't overly jazzed by anything in particular but I've included a few photos of my favorite looks from a couple of the designers.
All in all I had a great time, and a hangover by 9pm thanks to the champers. This show got me SO EXCITED for London Fashion Week which is coming up very soon, I'm actually trying to plan shit this time - got some cool bits and pieces to wear and plenty of amazing shows to see. If any of you are going to be around this London Fashion Week let me know :) It would be great to meet up!
X
Posted by

Frankie
17 comments:


Monday 11 March 2013
Sunny G's - Primark
Shirt - Brick Lane Market £5
Jacket - Vintage Escada Hanna's
Leggings - Primark £14
Shoes - Topshop via Ebay £15
Jen
Hey guys, I know it's been long time. I've been knee deep in
clunge
deadlines and blogging has taken a back-seat I'm afraid. Also, I keep on having these little epis like, why do I blog? is there any point ? Is it boring for everyone to read? Should I be posting swatches of all my makeup?? Dressing up in something I'm not actually wearing that day? It's so cold, dressing nice is hard man!
Wah Wah Waahhhhh!
It''s been difficult, but I'm going to keep at it and be me. So decide to do this post showing you a few cool looks I photog'd (badly) at LFW :) I miss it already, I met so many cool people, I hung out with Jen from
www.jjnoir.blogspot.co.uk
for the whole thing and she is a
BABE,
I wouldn't have had a clue if she wasn't there with me. We were complete blaggers - managed to get free Mac makeovers and goodybags- they said they were booked up but hanging around worked.
I also met
Promise
of Follow me in 5inch heels,
Wunmi
from Daisy-mak,
Breeny-Lee
, Melissa from
Melissa's Wardrobe
, Liv from
Fashion Somebody
and Lucia from
Lucia Lolita
. Nice to hang out with other boggers, I did feel a little like an imposter though haha!
In other news... The winner of my giveaway is
DUH DUH DUUUUUUH
Last but not least, I've been wanting to do a wishlist for ages now. Been shopping like crazy and always wanting more, and I think I've found a few gems you'll appreciate:
Sunday 17 February 2013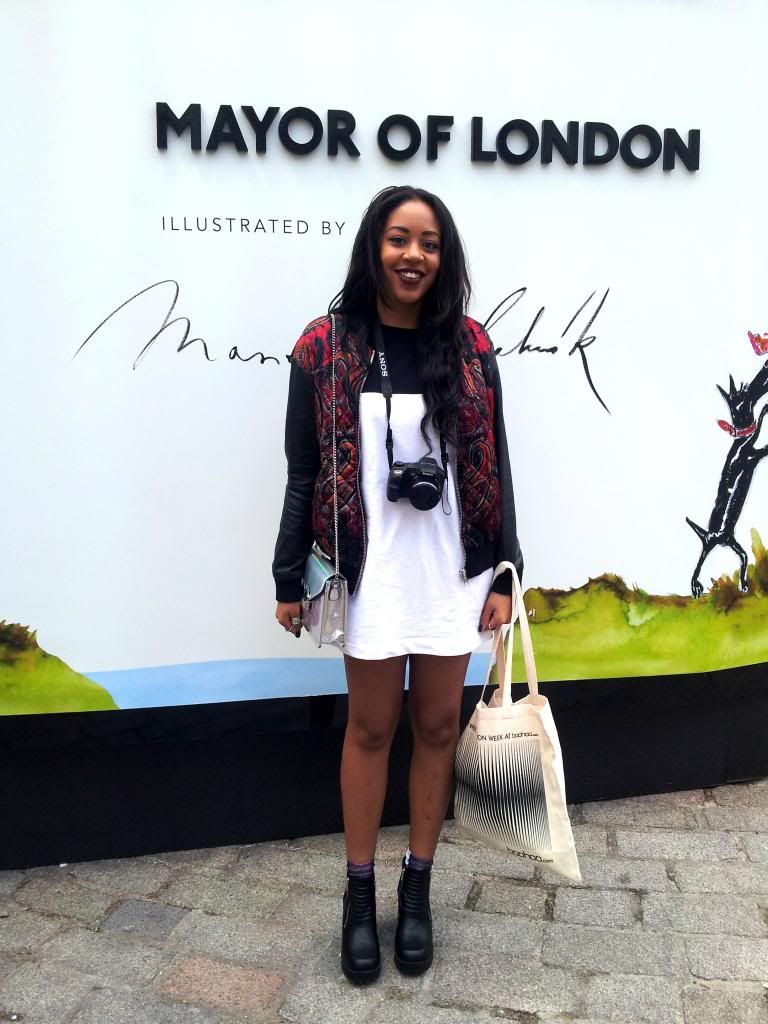 Dress: Zara
Jacket : Topshop
Bag : NewLook
Boots : H&M
Socks : Topshop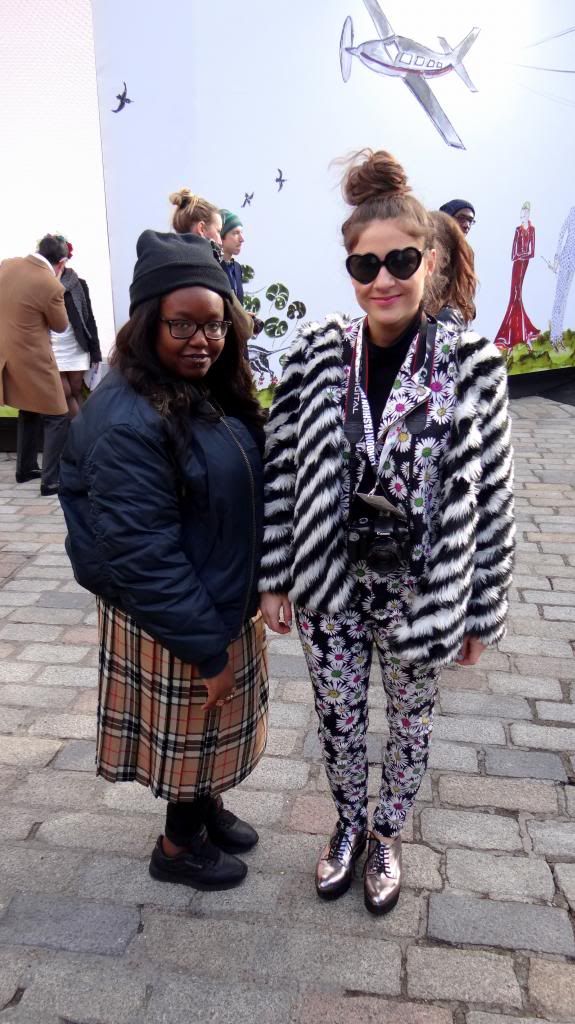 Jen and Helena looking fab!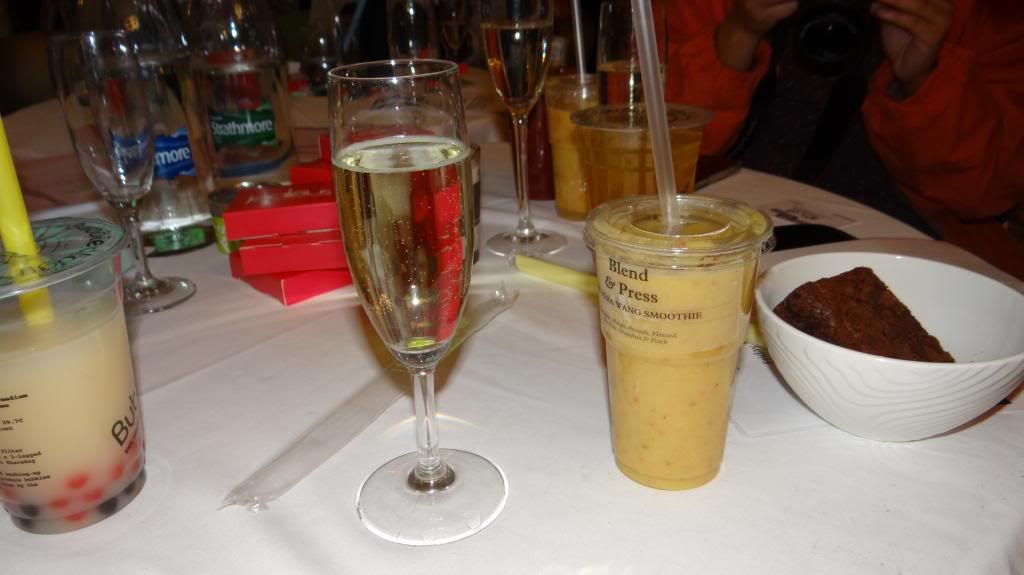 I had the most amazing Friday at London Fashion Week! I woke up ridiculously hungover after what may have been the best valentines night
EVER,
ripped my wardrobe apart for a last minute outfit then rushed over to Somerset House to meet up with Helena from
Bell's Fashion
an hour and a half late (sorry man :S). Gutted I missed the first show but I managed to get to a few more later, Belle Sauvage, Runway Collective and Nova Chiu ( going to be doing a show post another day stay tuned :) ) In between shows
Jen of J Noir
took me over to the Waldorf Hilton to the New Look Refuel room which was
SO GOOD!
Champers, little sandwiches, brownies bubbletea, smoothies, hair, nails, eyelashes, photobooth
IT HAD EVERYTHING!
I hadn't had time to eat anything that day so not gonna lie I got a little tipsy... free champagne okay?? I also met a friend of Jens and blogger
Sheree of Glitz & Grime
who was so lovely/cool/beautiful, had some photobooth fun ...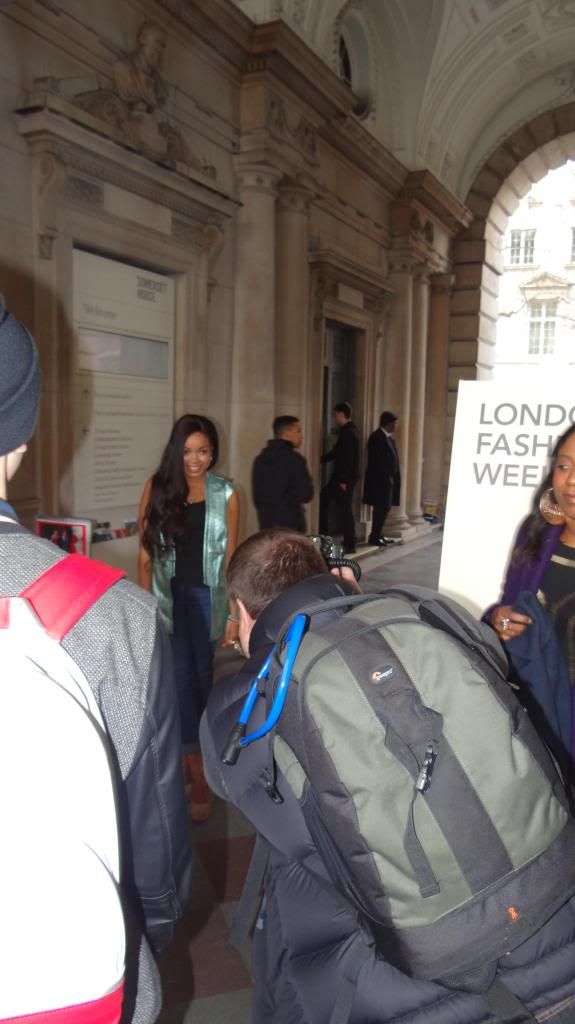 I Papped Dionne Bromfield
Sneak peek of the shows
So far so good! I was going to head down again today but you should see my room, it smells like a teenage boys bedroom and my wardrobe looks like it's been vomiting on my floor... So gonna get my shit together and hopefully I'll see some of you guys at LFW tomorrow.
Posted by

Frankie
36 comments: