Tuesday 22 January 2013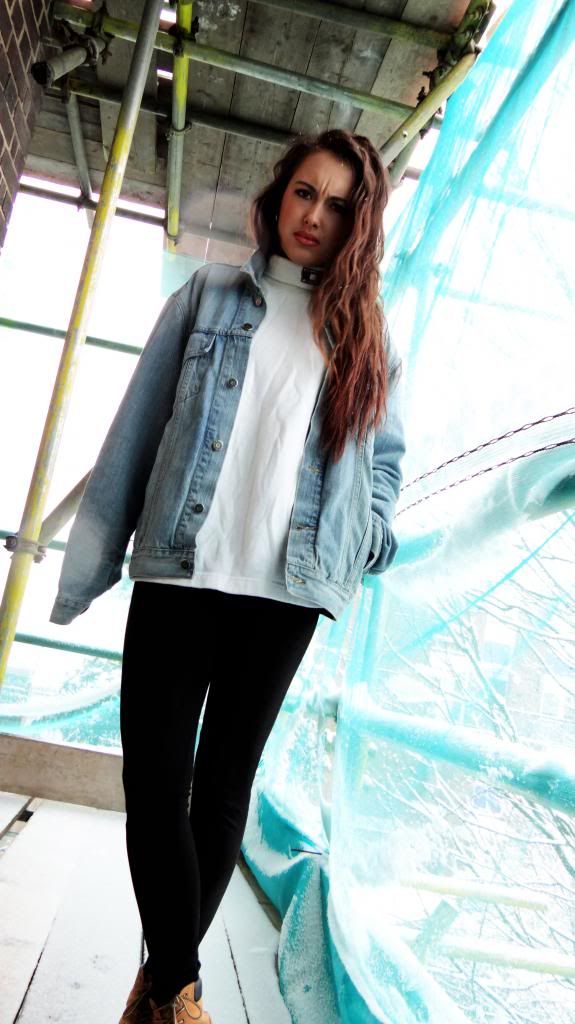 Jacket : Vintage Levi's £12
Jumper : Vintage Armani
Leggings : Joe Browns
Platform Timberlands : TK Maxx £20
Heeeeey :) Just went to write a new post and saw...
MY FAMALAM HAS INCREASED TO 400!!!!!!!!! REALLY????
Actually 399 if you count me following myself.Thanks if you're reading or taking a look. Blogging (although I don't do it nearly enough) is one of the few things that makes me genuinely happy and I'm so grateful people don't think my blog is shit :D I did buy some bits for a giveaway now I just have to find them in my floordrobe.
~
This post is a little different to my usual don't you think? My friend Gabby who I live with was wearing this frankly awesome outfit the other day and I had to document it on this blog. Luckily, she let me take a few pictures of her for which we ventured on to the scaffolding on our flat, I know right! We are dangerous bitches! I hope you like her outfit and the photography skills *cough cough* haha! I am sick of posting pictures of myself at the moment I think I'll be doing something different in between if that's okay? Anyhow, weather has been atrocious at the moment, so I've been cooped in (by cooped in I mean at Westfield) shopping and fackin hell man got some nice bits and bobs to show you :) I'm still in the process if editing my youtube video...tbf that shit is LOOOOOOOONG. So bear with me if you can. Now I haven't made a whishlist for ages so it's about bloody time :
I'll leave it at that before I have to file for bankruptcy
Love :D