Tuesday, 9 June 2015
Jacket - c/o Cow Vintage
T-Shirt - Lazy Oaf
Skirt - ASOS
Socks - Primark
Trainers - Nike
Bumbag - ASOS
Sunny G's - c/o River Island
Long time no see? Every post I'm trying to explain my absence! To summarise,a combination of ugly days/bad hair days/being hungover and just living life have made me the laziest of bloggers. A change of lifestyle was needed and so far so good! You never know, you might even see a recipe for gluten free banana bread on here sometime soon :)
Anyway, just going to dive straight back in. A couple of weeks ago I had the pleasure of visiting the city of Paris with a few of my friends you may know - Jen of Jen Electro, Sophie Emmet (stylist) and Gary of The Plastic Boy. We did the typical touristy shit (observe me at the Louvre avec bumbag)which was cool, but oh my god is the Paris nightlife amazing! If you are ever in the neighbourhood go to Silencio for a good night. You'll feel robbed by the price of a G&T - 24 euros! But it's worth it, music was on fleek (think everything from Tupac to Zebra Katz) as was the decor and beautiful people (Ian Somerhalder was in attendance). We also spent Sunday at the Afropunk festival which was awesome even though it was indoors (don't even ask me why a festival was indoors). Highlights included seeing Lion Babe, Lianna La Havas and Willow and Jaden Smith, who is definitely a better rapper than his dad!
Anyway got a very eventful summer ahead, which of course I will be blogging about. Two festivals - Glastonbury and Shambala and also going on a massive vaycay to explore Sri Lanka for two weeks in September so stay tuned :)
Any of you guys going to Glasto let me know!
Frankie x
Photos by Gary Thompson
Posted by

Frankie
9 comments:


Sunday, 18 January 2015
Shirt - VintageTommy Hilfiger via Depop, Trousers - Boohoo , Trainers - Air Force 1 Offspring , Necklace - Primark
Well this is awkward... it's 2015 and I haven't blogged for 7 months. What the hell? Full time employment at a lovely but time consuming job and my lack of appetite for blogging with a hangover at the weekend takes a toll.
I never thought I'd say this but I miss it!!! Rambling on about shit nobody cares about and posting pictures of me wearing the various bits and bobs from hideously extensive wardrobe/floordrobe makes me happy. I'm in a sharing frame of mind.
Today was one of those days when I felt like I wanted to wear all the colours. I originally bought this vintage Tommy Hilfiger shirt for my boyfriend off Depop, but decided to keep it for myself...sorry Rob! And these trousers were £8 off Boohoo, they tried to Pantone match them at work and failed the colour is that magical!
Also feel like I should explain the weird colour of my hair, it wasn't planned D: ! I got bored with blonde and decided I was going to dye my hair purple last night, violet to be exact. I wasted £4 on Crazy Colours Violette, and unless I'm colour blind my hair is definitely
BLUE!
My poor hair :( I'm going to be spending the next week frantically trying to fade it out, trust me having a weave is so much less stress than looking after my actual hair! If anyone has any tips for getting blue out of hair help a sista out?
I've got a bunch of ideas for posts I'm going to definitely do..and I actually mean it this time. I've embarked on a journey to get
fit and healthy
, lets be real skinnier so maybe I'll blog about my progress (if there is any, fingers crossed). Anyway watch this space.
Happy 2015!
Frankie
x
Monday, 23 June 2014
Jacket - Primark , Shirt - Vintage , Skirt - Primark , Sunglasses - Pressie , Bag - C/O Paul's Boutique
Hello my lovelies! Hope you had a marvelous weekend, thank god I managed to get through it with minimal sunburn (yep I always manage it) and not a hangover in sight.
I wore this last week to the Schuh house party I went to with Jen & Beth. It was
AMAZING!
The best possible end to a 3 day juice cleanse - vodka, bubbly and Macaroni cheese galore. Surprisingly, I didn't spill anything on my new white jacket. I saw this coat at the Primark SS14 press day and I have been on the lookout ever since, by that I mean I asked jen every day if she'd seen it in store yet. Also, I'm really happy I wore this shirt, I bought it a couple of years ago in a charity shop and haven't really worn it much and I think it looks quite nice :D
YAAAAY!
Going to keep this short and sweet, I'm bloody tired and it's about a million degrees in here, hot laptop on my legs is not great right now. I'm pretty sure I'll read this back in the morning and it's going to read a bit like a passage from Angus Thongs but hey ho.
I'll be back soon :)


Photo's by Bethany Grace
Sunday, 8 June 2014
Dress - Forever 21, Sandals - ASOS, Sunglasses - ASOS, Earrings - Ebay, Bag - Primark, Watch - C/O Anne Klein
How sunny and lovely has it been this weekend?? Despite my raging hangover me and Rob took a few steps out of our front door to go laze around on Streatham common, armed with tinnies & books. I wore my new favourite dress (which was only £14.99!!!!) and not much else he he! And big thanks to my friend Rachelle for hooking me up with the most amaaaaazing Anne Klein watch - I LAVS IT!
Thanks so much for the lovely comments on my last post and being so understanding even though I was having a bit of a rant :D . Really made me want to keep blogging, knowing people don't think my blog is shit makes me all warm and funny inside :) Also, I'm thinking I might do a Youtube haul video later because I want to share all the beautiful things I've bought lately with you - let me know if that's a shit boring idea? Anyway, going to keep this one short and sweet as I'm heading into central to go check out the Gumball 3000 supercars WOOOO!
Sunday, 1 June 2014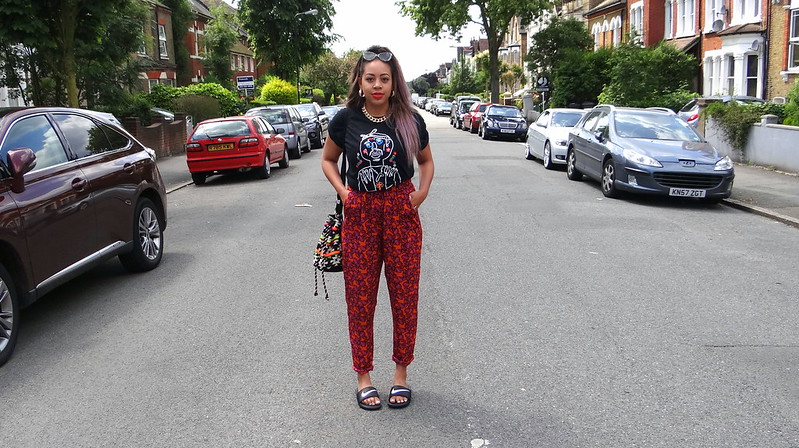 T-Shirt - C/O Cats Bros-HERE , Jumpsuit - Primark , Nike Benassi slides - via Schuh HERE , Bag - Primark , Sunny G's - Pressie from Jen electro Ringss - ASOS , New Look , Topshop , Lucky Little Blighters - similar HERE


This is going to be a quick one as today I have a hangover and to combat that I'm about to go spend the rest of the afternoon in a beer garden getting over it :) Recently, the uber talented legends at Cats Bros contacted me and asked me if I wanted one of their hand embroidered T shirts and of course I said hell yeah! A friend of mine Stacey, who works for them bought the label to my attention, and I love their vibe. Superstars such as Eazy E, Tupac and the Beastie boys have been lovingly illustrated and hand embroidered on the coolest T shirts in the world! And I've got to mention the sliders, at £16 you cannot get a pair of comfier shoes. I definitely prefer this type of shoe with a laid back look on me, I am a NO CHIC ZONE!
Anyway, I'm not sure if anyone still reads this or really cares about my lack of commitment to this blog lately, who knows but I think I might keep going with it. I keep fannying around, wondering if I should continue with this blogging malarky. Things have changed with my life, and with blogging. And god knows how I've ranted about the blogging world in the past. It's slightly frustrating that those who get the most recognition are the ones who you would never see wearing that shit outside, really?? On the other hand I know I can't really complain because if that's what people like and want to see I can't argue with that. But, the main reason I think this all boils down to the fact my boyfriend grumbles EVERY TIME I ask him to take pictures of me. Yeah Rob it's all your fault :)
Happy Sunday XXX

Photos by Rob Greaves
Sunday, 4 May 2014
Hello hello! Long time no see? I'm back with some summery goodness, a grown up job and a new hairstyle! I know I'm not the most regular of bloggers but something about Sunshine makes me want to wear pretty things and make my boyfriend take pictures of me in the middle of the road - so hopefully there'll be more to come.
SINCE I'VE BEEN GONE ...
You are now looking at the newest lingerie and accessories Allocator at Boux Avenue WOOO!!! BALLIN'
I've moved in with my lovely boyfriend of six years Rob and it's domestic bliss up in here
I went a bit blonde, when I inevitably get bored of it I don't know if I'm going to dye it violet or pink HELP?
I've embarked on a health & fitness journey (that sounds so wanky sorry) and have already lost 11lb - trust me I know I'm not looking like a skinny minnie now but progress is progress.
I have a new found LOVE of brown lipstick, so questionable but so good!
At the slightest hint of sunshine I like loads of you I'm sure decide to wear less clothes as if it's 30 degrees out . I was very lucky this week, as I was perusing ASOS for a new bag, I was contacted by the lovely Lizzie from Pauls Boutique who let me pick out a bag. Green is forevs my fave colour and I can't really let myself have a big bag otherwise it becomes a sack of shit in no time, so I chose the Suki in Pistachio
HERE,
and it's perfect!
I am also doubly, triply lucky to have had the lovely Maura, designer of the fantastical Lucky Little Blighters jewellery create this one off custom ring for me (see massive gold thing of beauty attached to my middle finger above). My first bit of proper grown up valuable jewellery and I'm loving it, go and check out more of Maura's beautiful designs
HERE.
Glad to be back!
Love
Tuesday, 21 January 2014
Top - Miss Selfridge , Jeans - vintage , coat - Queen Of Rags charity shop , Shoes - C/O Front Row Shop
White clothing shows
E V E R Y T H I N G
. At the moment it's difficult to figure out which part of my body I hate most - my tummy, my chin(S) or my boobs. At least I can change two of those things, boobs not so much. Since moving back home I've been trying to get on the health kick that everyone else on the planet seems to be on, I've been running, gyming and eating a lot less shit. I can't really see a difference yet, although this could be down to eating copious amounts of things that are supposedly good for me, elephants eat plants and they are still huge sooooo.....
Frankie x
P.s given the fact that at the time these pictures were taken I had a raging hangover- sunglasses on a cloudy day in London were totally acceptable LOLZ
Saturday, 18 January 2014
Denim Jacket - Vintage , Top - My sisters from Miss Selfridge HERE , Skirt - Missguided HERE , Shoes - C/O FrontRowShop HERE , Earrings - Peckham
I'm coming to you straight outta bed with a nasty hangover wearing my Kigu feeling sorry for myself. I wore this delightful little number out last night to celebrate the birthday of one of my nearest and dearest, Aphra. Myself and a group of similarly wild ladies descended on Dalston Superstore last night to go to a night called 'Twat Boutique' and it was SO GOOD! I woke up this morning wondering why my legs were so sore, vaguely remembering a copious amount of slut-dropping going down last night (the Dakin sisters got crazy) and recalling fondly how no creepy guys were hitting on me but for a change it was nice girls ( not that I even noticed at the time). Anyway, I definitely recommend a visit to Dalston Superstore, the music was so on point - 90's house classics, Prince, Destiny's child, gay or straight you'll have a good time.
P.S What do you think of my new hair? I'm debating whether to dye in darker already not sure :S
Frankie x
Monday, 28 October 2013
Top : Primark
Skirt : Motelrocks
Shoes : H&M
Jacket : My dads
Clutch : Topshop
Necklace : Ebay
Wassup Wassup? On Tuesday when me and
Jen
 wondered around London, popping into various press days to see what everyone had to offer for ss/14. We went all over the shop, but started at Louis Vuitton...
Monday, 7 October 2013
Add caption
Crop Top - Primark
Shoes - H&M
Necklace - River Island
Helooooooooo! I'm finally flu free and feeling human again! If I had blogged during my down time rest assured the posts would have involved OOTDs featuring various dressing gowns and onesies, with a birds nest for hair, clutching a mug of Lemsip like my life depends on it - pretty sure this post is preferable. I am in luurve with my new H&M boots at the moment - £29.99 and they look really similar to the Vagabond Dioon boots, except in my opinion chunkier and in general just more awesome. Needless to say the men in my life (i.e Boyfriend and Dad) think they are hideous - in my eyes this can only be a good thing. I love dressing in a way that makes men go away hehe!
With my recovery I warn you will be coming a barrage of LFW posts starting tomorrow. I'm pretty sure I'm going to blog regularly from now on, not just about 'look at what I'm wearing' either - going to be branching out to make it a bit more interesting. WATCH THIS SPACE.
I'd also like to say a big thanks to Erica from IPR for the much needed super stretch jeans, the only jeans that fit my gigantic arse at the moment, and La Moda for sending me this schweet satchel today! Much appreciated !
Toodles!
Friday, 6 September 2013
B Ball jersey - C/O Educate & Elevate
HERE
Skirt - H&M
Nike Roshe runs camo - Urban Outfitters
Bag - My dads
Lipstick - So Chaud
Oh my goodness I've been
SO BUSY
moving out of my flat over the past week, haven't had a chance to blog for a bit sorry guys :) I'm so glad to have finally moved out of my uni flat now, back to my dads where the fridge is always full - it's amazing. Aaanyway, the babeatron that is Suzan from Educate & Elevate sent me this lush B Ball jersey the other day. I usually only wear jerseys as pyjamas but thought this one was too nice not to wear outside- I bloody love it,
TA BABE!
Also, I think we all need to appreciate my awesome Nike roshe runs that the lovely
Sheree
from Glitz and Grime helped me procur. I really wasn't that jazzed about the roshe till I saw these on the Urban Outfitters website, pretty much fell in love and when I got them so did my feet, comfiest kicks eveeeeeeeer! So that's all from me today, this week is the calm before the storm that is London Fashion Week. Expect a bazillion LFW blog posts in the not too distant future, let me know if your going :D
xxx
Thursday, 22 August 2013
T shirt - ASOS
Kimono - Topshop
Jeans - Topshop Joni
Shoes - Topshop Ravers via Ebay
So yesterday I attended the GS Shop show with my girl
Jen
and this is what I wore :) If you follow me on Instagram ( @Frankiegd) you are probably sick of seeing this red kimono I got from Topshop a while back (I've got matching shorts to how cool is that!), it's my staple jacket a the moment whilst it's too hot for denim. For some reason outfit planning doesn't work for me and this is the result, I always end up throwing something on last minute - refer back to my LFW outfits last year haha!
The GS Shop show, which I was lucky enough to attend thanks to Pop PR comprised the work of four Korean Central St Martins alumni designers. All four shows seemed to be A/W to me, a little confusing ( I'm hating A/W coming in the shops at the moment, still in summer mode) but I loved the coats and jackets - especially the mens ones from Xess Homme. I wasn't overly jazzed by anything in particular but I've included a few photos of my favorite looks from a couple of the designers.
All in all I had a great time, and a hangover by 9pm thanks to the champers. This show got me SO EXCITED for London Fashion Week which is coming up very soon, I'm actually trying to plan shit this time - got some cool bits and pieces to wear and plenty of amazing shows to see. If any of you are going to be around this London Fashion Week let me know :) It would be great to meet up!
X
Posted by

Frankie
18 comments: