Thursday 6 December 2012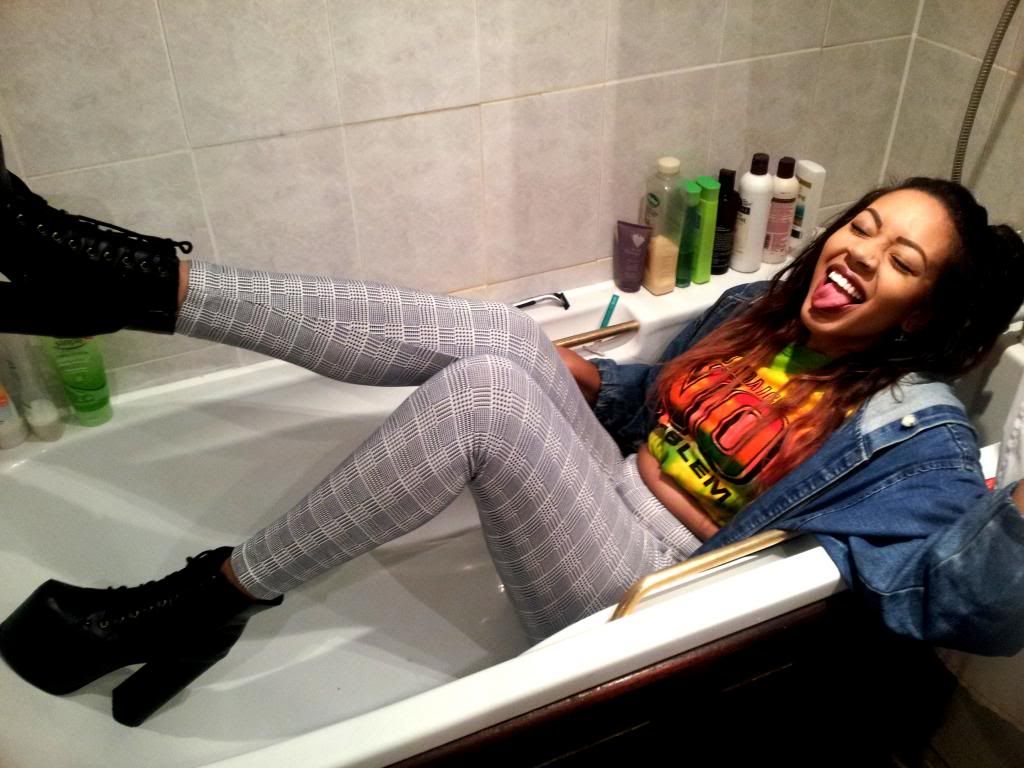 OOOOPS CHUBBY!!!
`
T shirt - Charity Shop £1.99
Denim Hoodie - Bootsale
Leggings - Urban outfitters via ebay £4.60
Boots - Ebay £35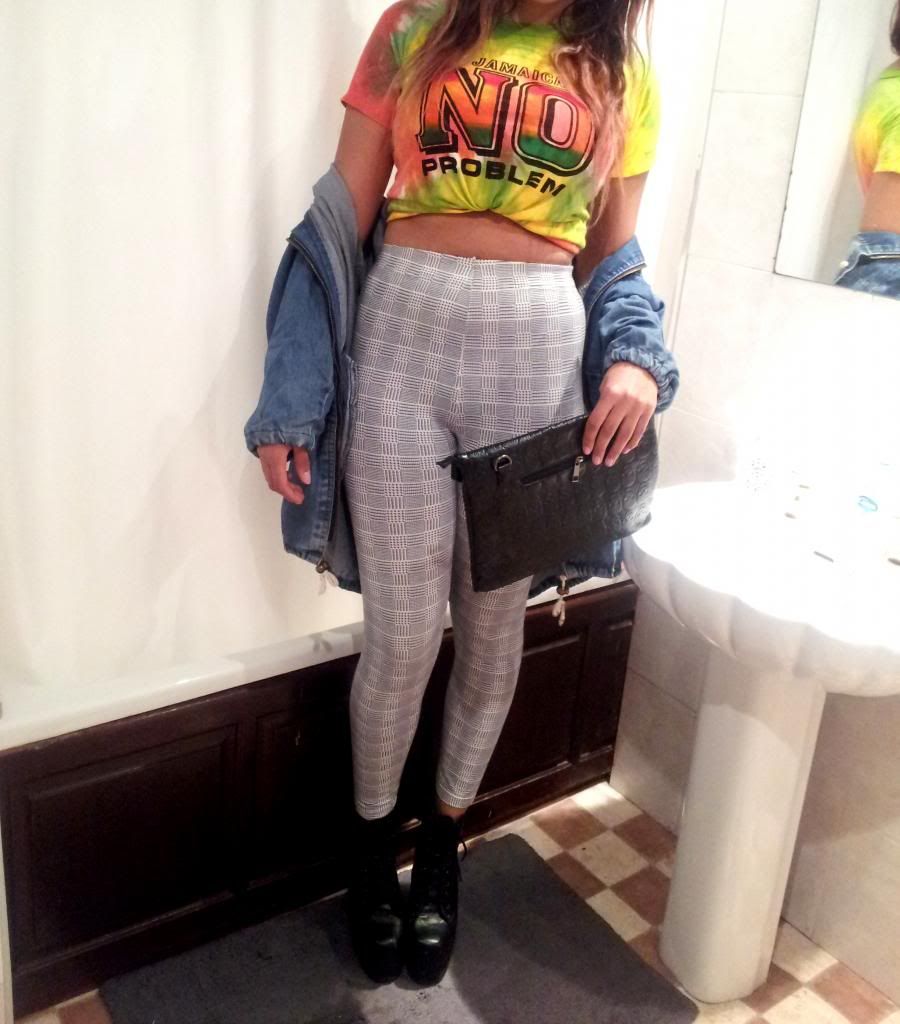 Closer look at le clutch from
LaModa
Lipstick - Topshop Inhibition
Heeeyy!!!!! I've been swamped with deadlines for ages and now I'm pretty much free
BACK TO BLOGGING AND C H R I S T M A S ! ! !!
This is an outfit from the other night and I'm sure you can tell by the very nature of the outfit and the bath picture I was quite drunk when this one happened... I got these leggings from ebay and they are lush, high waisted and pretty thick, goodbye trousers :) Found this t shirt in the little boys section of Oxfam, I originally bought it with the intention of giving it to my boyfriend (he's half Jamaican) but it was practically a crop top on him so I kept it for myself. The bag and ear cuff I got send from
La Moda
last week and I
LOVE
them, I'm not really a clutch kind of girl (they tend to get left behind when things get messy...) but I managed to hold on to this all night thank god!
I'm so jazzed about Christmas coming up you have no idea. I can't wait to see my family and tbh this term has been so shitty, I've let anxiety/ depression get on top of me quite a bit but I'm slowly trying to dig myself out of it. It's really hard when all I want to do is be like
FUCK THIS
and give up uni...final year though got to get it together! S/O to all my Geography students! So to cheer myself up I compiled a Christmas list (family take note)...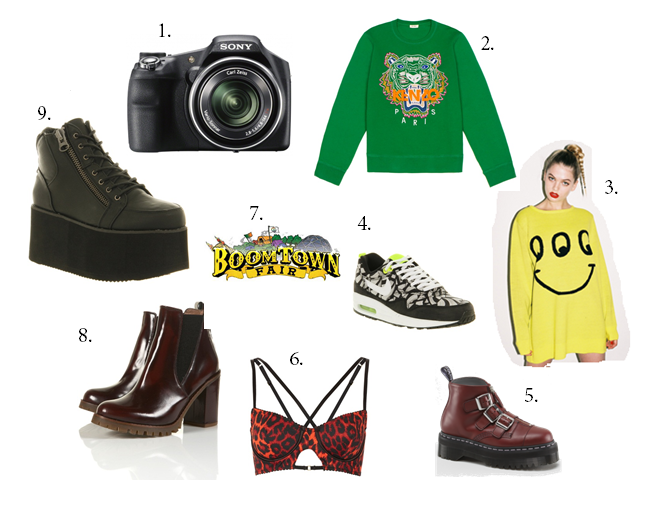 1 -
Sony Cyber-shot DSC-HX200V -
HERE
- So I can take some decent pictures for once :)
2 -
Kenzo Tiger sweatshirt -
HERE
- Who the hell doesn't want one of these for Christmas? Get out.
3 -
Lazy Oaf Real Happy Jumper -
HERE
- Take note family,
I NEED THIS JUMPER !!!!!
4 -
Nike Air Max 1 Liberty Lotus print -
HERE
These are amaaaazing, already sold out in my size though :(
5 -
Dr Martens Agyness Deyn -
HERE
- The most beautiful boots in the world!!!! Please Father Christmas :D
6 -
Topshop flame leopard harness bralet -
HERE
- I know this probably won't fit my boobs.. but I'll feel like I'm Rihanna in it I'm pretty sure :)
7 -
BoomTown Fair 2013 ticket -
BoomTown is the highlight of my year!! I need to get back and have a summer of psychedelic hippy fun :)
8 -
Topshop Phelvin Boots -
HERE
- PLEAAAAASE!!! I have never owned Chelsea boots want to give it a go :)
9 -
Office Dungeon Boots -
HERE
- I'm going to be the new Spice Girl, what of it?
I hate these open questions but what do you guys want for Christmas?
JUST ME BEING NOSY :D
Niiiiight XXX

Posted by

Frankie
55 comments:


Friday 23 November 2012
I'm
SO
excited for Christmas already !!!!! I've got my first work Christmas party coming up and I've made my list, emailed it to everyone I know and hoping for the best :) One of the things I really want for Christmas is a new handbag. I'm the kind kind of person who wouldn't really buy one for myself clothes on my back are the first priority and nice bags are a luxury, mainly because I'm always skint. The lovely Stephanie from House of Fraser contacted me about their
HUGE
range of handbags
, and I thought I'd show you my my Christmas short-list. Seriously... there's so many amaaaazing designer brands on the website like Biba, Vivienne Westwood, Lulu Guinness and Moschino it was hard to narrow down but here goes:
Ever since I first saw the Lulu Guinness lips shaped clutches I have lusted after one of these beauties! This studded version is DOPE. This would look perfect with my Christmas party dress which has gold sequins on top with a long sheer skirt, early Christmas present?? Hint Hint :)
I'm in love with lilac at the moment, I really want to bleach my hair and dye it lilac but I'm kind of worried it'd fall out if I did...so I'll have to be satisfied with this Zatchels beauty. The colour would go with pretty much anything, I'd wear it with a casual day outfit like a huge jazzy fresh prince shirt, leggings, huge platforms and my chunky gold chain of course!
Do we not all dream of owning a Vivienne Westwood bag?? PLEASE FATHER CHRISTMAS I've been okay this year... This one is pretty grown up, I'd take it anywhere, so classic! About time I owned something classic don't you think?? I'd go all sophisticated and wear my black polo neck midi dress, spikey gold necklace and some ankle strap heels for dinner with my boyfriend :)
This bag is so bloody 90's and I love it! White jelly plastic, slightly transparent and right up my street! I'd feel like a spice girl with this one, wear it with some flatform trainers, disco pants and my honey coloured furry coat.
I kind of wish I never even looked at the House of Fraser handbag section, Christmas will inevitably be slightly rubbish without one or more of these bad boys. You have been warned.
XXX
Thursday 8 December 2011
WHERE'S IT FROM?
(Clothes on me)
Leather jacket: eBay
Sheer shirt: H&M
Jeans: Cheap Monday
Boots: Dr Martens 10 hole
Belt: Primark
*
Spotted bucket bag: Topshop
*
Dress - Long sleeved top - Bag: Topshop
Haven't posted for ages partially due to being hungover most of the time. SO SO SO excited about Christmas, got a really cute/tasty advent calender from Madelaine Chocolate courtesy of daddy dearest but that's the only luxury I've had this month, painfully skint ughh.
Aaanyyyway, yesterday me and Emma went to the new Westfield Stratford for the millionth time and got treated to a personal shopping experience (quite by accident) in Topshop. Sharna picked out a few pieces for us then proceeded run around the shop finding us the sizes we needed and generally was just a complete babe :) . I LOVED this look with the Floral midi dress over the long sleeved top, v. nineties. I found
this
gorgeous top in cream for Emma in Topshop who tried on MANY outfits whilst I ate far to many Haribo's impulse bought in the Primark queue *only just learnt how to spell this word HOW WEIRD IS IT SPELT???? That'll have to change when I take over the world* .
I'm writing this hung over and more than a little ashamed of myself after last nights antics at Netball initiation (no I don't actually play netball far too lazy for that, I'm a social member. It involved shots of vinegar, pickled onions, whipped cream, tabasco and gin shots and in the end I was christened with Xtina as my nickname, due to my tendancy to be X-rated hmmmmm ;) Still gutted I can't join Pottermore yet. Ramble over.